Metabones Nikon G to Micro 4/3 Speed Booster XL 0.64x
€518,00 alv. 0% €642,32 sis alv. 24%
Panasonic GH4 Nikon G adapteri 0.64x kokoavalla linssillä ja sähköisellä aukonsäädöllä
Kuvaus
Nikon G to Micro Four Thirds Speed Booster XL 0.64x on erityisesti Panasonic GH-4 -kameralle suunniteltu malli Canon EF-laseille (ei EFS). Speed Booster mallissa Caldwell Photographicin valmistama kokoava linssi parantaa valovoimaa ja lisää laajakulmaisuutta (0.64x)! Esim. f2.8 aukon lasi paranee valovoimaltaan noin f2.3 arvoon. Valmistajan sivuilta näet tarkat yhteensopivuudet! Takuu 12kk.
Key Features

Speed Booster XL 0.64x
A new Micro-4/3 mount Speed Booster® adapter designed exclusively for the Panasonic GH4 and other selected Micro Four Thirds cameras (refer to the below camera compatbility table), with a magnification of 0.64x. The Speed Booster XL 0.64x uses an advanced 6-element optical design to achieve extraordinary optical performance at apertures up to an incredible f/0.80, a new record for Micro Four Thirds format. The new Speed Booster XL 0.64x reduces the full-frame crop factor of the Panasonic GH4 from 2.0x to 1.28x, thus effectively transforming these cameras into APS-H format. When the GH4 is used in Cinema 4k video mode the horizontal full frame crop factor is reduced from 2.34x to 1.50x, thus effectively transforming the GH4 into a super-35 format 4k cine camera. In addition, the speed of any attached lens is increased by 11/3 stops, with a maximum output aperture of f/0.80 when an f/1.2 lens is used. For example, a 50mm f/1.2 becomes a 32mm f/0.80, which is the fastest aperture available for full size Micro Four Thirds format. (More information can be found in the press release here )
Key Features
Industry's best aperture ring covers a 8-stop range, clearly indicating actual number of f-stops. No more guesswork! (Patent pending).
Compatible to both Nikkor G lens & F lens (include non-AI & AI lens mounts).
Increase maximum aperture by 1

1/3 stops.
Increase MTF.
Makes lens 0.64x wider.
Click-less manual G aperture ring.
Support Panasonic GH4, GH3, G3, G5, G6, G10, GF3, GF5, GF6, GX1, Olympus E-PL7, Blackmagic Cinema Camera with Micro Four Thirds mount and Blackmagic Pocket Cinema Camera.
Optics designed by Caldwell Photographic in the USA (patent pending).
The tripod foot is detachable and compatible with Arca Swiss, Markins, Photo Clam ball heads.
Tips: Before mounting your lens to the adaptor, please make sure that the f-stop of aperture ring on the adaptor is turned to "7" (i.e. mounting your lens to the adaptor while only the aperture ring in the adaptor is full closed.).
Remark: This mount is manual aperture control. It does NOT support electronic aperture control.
Description

Compatibility
The Speed Booster XL 0.64x is similar to the Blackmagic-specific 0.64x BMCC Speed Booster (MB_SPNFG-BMCC-BM1), but has been completely re-designed to meet the following requirements:
The working distance has increased by 1mm to permit use on the Panasonic GH4 and a number of other Micro Four Thirds cameras without touching the flexible outer cover of the camera's shutter mechanism.

The optics are optimized for a standard Micro Four Thirds filter stack thickness of 4mm rather than the 2.4mm found in Blackmagic cameras.

The image circle diameter has been increased to 21.63mm so that the full 17.3mm x 13mm Four Thirds format is covered. This has been achieved while maintaining unusually high image quality over the 17.4mm image circle used by the Panasonic GH4 in its Cinema 4k video mode.
Although the Speed Booster XL 0.64x has extra clearance compared to the 0.64x BMCC Speed Booster, there are still a number of Micro Four Thirds cameras that are not supported due to mechanical clearance issues. This is summarized in the table below, which is color-coded so that Green means the camera is supported and Red means the camera is not supported.
Note that many of the Red-coded cameras actually do function, but there is a minor interference with the protective shutter cover. Although slight contact with the shutter cover appears to have no effect on the functioning or cosmetics of either the camera or the Speed Booster we cannot support these combinations due to possible risk of damage.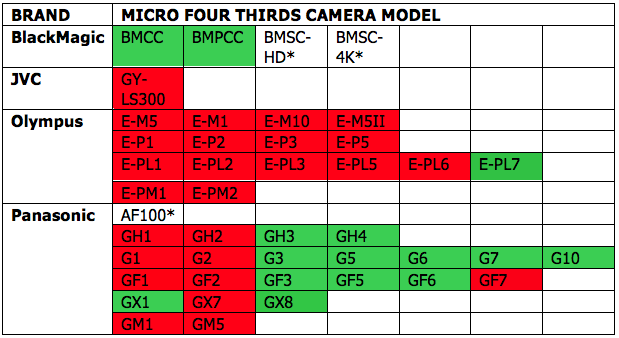 *Not yet tested
List of incompatible lenses
Nikkor 2.1cm f4
20/2.8 AI-S
---
Remark: Your PayPal receipt is your order confirmation. There is no separate email confirmation until shipment takes place.
Disclaimer: we are NOT licensed, approved or endorsed by Micro Four Thirds or Nikon.
Arviot (0)
Vain kirjautuneet asiakkaat -jotka ovat ostaneet tuotteen- voivat kirjoittaa tuotearvion.
Tutustu myös
Objektiivit ja sovittimet
€

40,00 alv. 0%

€

49,60 sis alv. 24%