Metabones Canon EF Lens to BMPCC4K T Speed Booster XL 0.64x
€659,00 alv. 0% €817,16 sis alv. 24%
Canon EF ja EFS -linssiadapteri Blackmagic Pocket Cinema Camera 4K kameralle 0.71x sovitinlinssillä
Kuvaus
Metabones Canon EF Lens to BMPCC4K T Speed Booster® XL 0.64x (MB_SPEF-m43-BT9)

Toimitukset alkavat elokuussa 2019.
Uusi erityisesti Blackmagic Design Blackmagic Pocket Cinema Camera 4K -kameralle kehitetty Canon EF -linssiadapteri 0.64x sovitinlinssillä, mikä lisää valovoimaisuutta ja lisää linssin laajakulmaisuutta. Adapteri hyödyntää EF -linssin koko pinta-alan ja sovittaa sen Pocket Cinema Camera 4K pienemmälle kennolle.
Huom! Tämä adapteri ei käy muihin kameramalleihin!
Speed Booster mallissa on Caldwell Photographicin valmistama kokoava linssi parantaa valovoimaa 1.33 aukon verran ja lisää laajakulmaisuutta (0.64x). Esim. f2.8 aukon lasi paranee valovoimaltaan noin f2.3 arvoon. Valmistajan sivuilta näet tarkat yhteensopivuudet. Takuu 12kk.
Avecom on virallinen Metabones maahantuoja Suomessa.
Key Features

Optical
Canon EF mount lens to Blackmagic Design cameras with M43 mount, specific for BMPCC4K.
Increase maximum aperture by 1 1/3 stop. (with a maximum output aperture of f/0.80).
Increase MTF.
Makes lens 0.64x wider.
Patented 7-element/4-group optical design by Caldwell Photographic in the USA.
Electronic
Lens iris/aperture is set by the controls on the camera body.
Smooth iris support with the latest Canon (2009+), Tamron (SP series 2013+) and Sigma (2016+) lens models.
Image stabilization (IS) lens support.
Push autofocus if supported by camera.
Powered by camera body. With most lenses, no external power source required.
Mechanical
Flocking to reduce internal reflection.
Rubber gasket protects M43 mount connection from dust and moisture.
Aluminum alloy and brass construction with chromium plating.
Satin surface finish.
Detachable tripod foot compatible with Arca Swiss Style ball head, such as Markins and Photo Clam or attach to quick release plate by a 1/4″-20 screw.
The tripod foot is tailor-made to match the exact height as the BMPCC4K camera body.
Compatible Cameras
BlackMagic

Pocket Cinema Camera 4K

BlackMagic

Pocket Cinema Camera HD (original ver.)

BlackMagic

Micro Cinema Camera

BlackMagic

Micro Studio Camera 4K

BlackMagic

Studio Camera 4K

BlackMagic

Studio Camera
Compatible Lenses

Incompatible Lenses

Canon EF100-400mm f/4.5-5.6L IS II USM
Canon EF100-400mm f/4.5-5.6L IS USM (I)
Canon EF100mm f/2.8L IS USM Macro*
Canon EF135mm f/2L USM
Canon EF16-35mm f/2.8L II USM*
Canon EF17-35mm f/2.8L USM
Canon EF17-40mm f/4L USM
Canon EF200mm f/2.8L II USM
Canon EF24-105mm f/4L IS USM (I)
Canon EF24-70mm f/2.8L II USM*
Canon EF28-135mm f/3.5-5.6 IS USM
Canon EF28-70mm f/3.5-4.5 II
Canon EF28-80mm f/3.5-5.6 III USM
Canon EF300mm f/2.8L IS II USM*
Canon EF300mm f/4L IS USM
Canon EF400mm f/5.6L USM
Canon EF40mm f/2.8 STM*
Canon EF50mm f/1.2L USM
Canon EF50mm f/1.4 USM
Canon EF50mm f/1.8 II
Canon EF50mm f/1.8 STM*
Canon EF70-200mm f/2.8L IS II USM*
Canon EF70-200mm f/4L IS II USM*
Canon EF70-200mm f/4L USM
Canon EF70-300mm f/4-5.6L IS USM
Canon EF8-15mm f/4L USM Fisheye*
Canon EF85mm f/1.2L II USM
Sigma 135mm f/1.8 DG HSM Art 017*
Sigma 18-35mm f/1.8 DC HSM Art 013
Sigma 24-105mm f/4 DG HSM Art 013
SIgma 24-35mm f/2 DG HSM Art 015
Sigma 30mm f/1.4 DC HSM Art 013
Sigma 35mm f/1.4 DG HSM Art 012*
Sigma 50-100mm f/1.8 DC HSM Art 016*
Sigma 50-500mm f/4.5-6.3 DG OS HSM
Sigma 50mm f/1.4 DG HSM (not Art)
Tamron 10-24mm f/3.5-4.5 VC HLD B023
Tamron 18-250mm f/3.5-6.3 A18
Tamron 18-270mm f/3.5-6.3 B003
Tamron 24-70mm f/2.8 VC USD A007 (G1)
Tamron 28-300mm f/3.5-6.3 A06
Tamron 35-150mm f/2.8-4 VC OSD A043
Tamron 70-200mm F/2.8 Di VC USD A009
Tokina 11-16mm f/2.8 AT-X PRO (I)
Zeiss 18mm f/3.5 ZE
Canon EF-Extender (Teleconverter)

* = Smooth iris support

Tamron 70-300mm F/4-5.6 VC USD A005

Limitations

No Lens OIS/VC Support

Tamron SP 15-30/2.8 VC USD A012

Tamron 45mm F/1.8 VC USD F013

Tamron 150-600mm F/5-6.3 VC USD A011

No AF Support

Tamron SP 17-50mm F/2.8VC B005

Tamron 28-300mm F/3.5-6.3 VC A20

Tokina Opera 50mm F/1.4

Sigma18-125mm F/3.5-5.6DC OS HSM

Canon EF100-400mm F/4.5-5.6L IS II USM

No Iris Support without External Power Supply

Canon EF24-70mm F/2.8L USM (I)

Canon EF100mm F/2.8 USM Macro (non-L)

Tamron 18-270mm F/3.5-6.3 VC PZD B008
Unsupported List
Standard M43 camera. When this Speed Booster® is used with other MFT camera, it may cause damage to the camera.

APS-C(DX) lens. Speed Booster XL 0.64x can be used with full-frame lenses only. APS-C lenses are unable to cover full-sensor-width readout.
EF-S lens. EF-S lenses require modification to fit or may remain incompatible even after modification.

Lens correction such as peripheral shading, CA and distortion

Focus confirmation "chip" (e.g. Dandelion)

M42 screw mount adapters (see note 5)

Stacking

non

-Metabones/

non

-Conurus mount adapters on top

(see note 5 and list of lenses which require modification below.)
In a nutshell, we recommend XL for full-frame lenses and ULTRA for DX/APS-C lenses. For the long story, read our M43 Speed Booster Compatibility Chart.
Description

The BMPCC4K Speed Booster ULTRA 0.71x and XL 0.64x are similar to the standard M43 Speed Booster adapters (MB_SPEF-m43-BT3 and MB_SPEF-m43-BT4) but the optics have been re-designed to optimize for the filter stack thickness of 2.4mm found in Blackmagic cameras rather than the 4mm of a standard Micro Four Thirds.
Metabones Canon EF to BMPCC4K Speed Booster adapters are designed exclusively for Blackmagic Design Pocket Cinema Camera 4K (BMPCC4K). They cannot be attached to any other M43 cameras such as JVC, Olympus or Panasonic cameras.
The BMPCC4K Speed Booster XL 0.64x reduces the crop factor of the BMPCC 4K camera from 2.02x to 1.29x and produces the largest aperture optics currently available, with a maximum output aperture of f/0.8.
Table of compatibility and resulting crop factors with different SpeedBooster :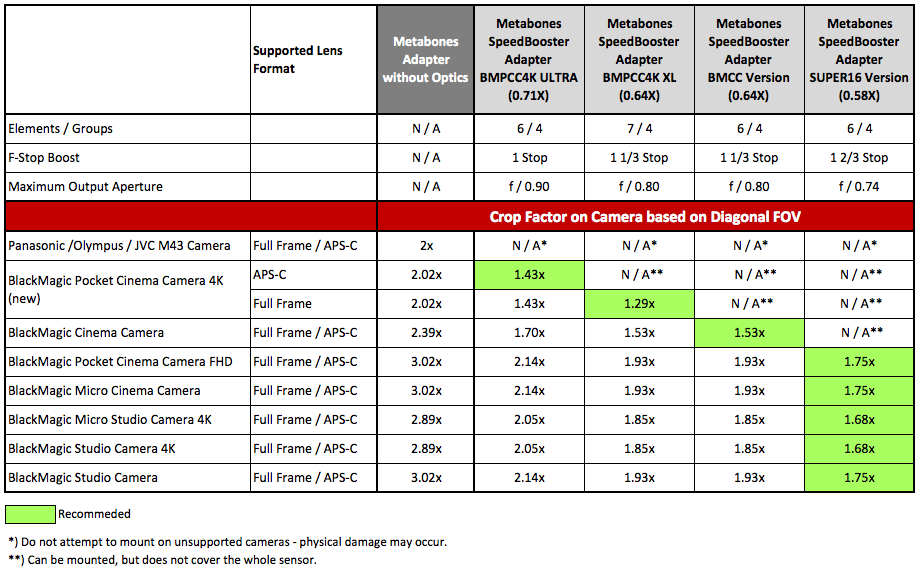 Tutustu myös
Objektiivit ja sovittimet
€

128,00 alv. 0%

€

158,72 sis alv. 24%